Thong Swimwear & Thong bikinis for women - definitions - resources
There seems to be some confusion about thong bikinis or thong swimwear. Besides thong women's thong swimwear, there are names like Tanga and Tonga. What's the difference? Well, quite frankly not much. Women's thong swimwear is denoted by the bottom coverage. Anything that fits in the lower crack of the buttocks and then slowly rises and widens to the waistband can be considered a thong bathing suit. These swimsuits can be a two piece thong bikini or a one piece swimsuit. It is generally recognized that modern day thong swimwear came from South Pacific designs worn by natives of the areas. Modern day thong swimwear, besides showing more of the derriere, are promoted as being extremely comfortable once you get used to the new, albeit strange, feeling.
A bottom that fits in the crack of the buttocks and doesn't widen as it progresses up is generally referred to as a g-string. The other noted difference between a g string is that most thong bikinis have a continuous piece of material that runs up the crotch and around the waist where the g-string, as the name implies, has a string that runs around the waist to which the crotch piece attaches.
For more clarification, below are photos of two different Thong Bathing Suits. On the right is an example of One piece women's thong swimwear and the other of course is a thong bikini. These photos are courtesy of Brigitewear, a California swimwear company.
Click on any of the photos to enlarge
While the above are examples of thong bathing suits and women's thong swimwear, below is a example of a g-string bikini or g string swimsuit, note the differences in the back and the waist.
There are numerous suppliers of women's thong swimwear today, most though are still on the internet. Since thong bathing suits are not worn by a large segment of the population, only the larger cities and/or beach towns will actually have stores that stock thong swimsuits. Probably the largest supplier of strictly thong swimwear is Brigitewear International of California. Brigitewear has a large line of thong swimwear and g string bikinis as well as some very unique topless thong bathing suits like the one pictured below.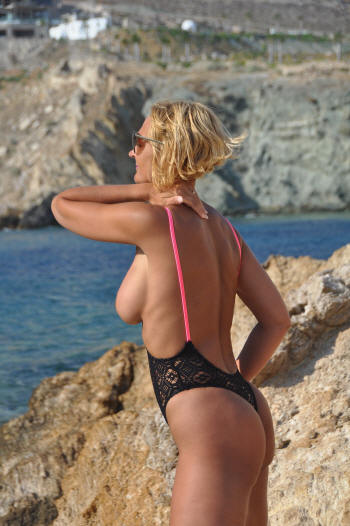 Brigitewear has two sites where you can buy women's thong swimwear products, one is http://www.brigitewear.com and the other is http://brigite.com , both sites offer secure online purchases and have been in business for many years. Also, note both sites are tested for safety by several independent online testing organizations so you can be sure of confidential secure ordering. See more information on Brigitewear swimsuits on this page. There are a handful of other companies that also have an array of thong swim wear available such as Ujena, Wicked Weasal and Venus.
Thong bikini swimsuit Photoshoot photos
Thong bikini swimsuit Photoshoot photos_1
Thong bikini swimsuit Photoshoot photos_2
Thong bikini swimsuit Photoshoot photos_3